New Mexico is the fourth largest state for uninsured motorists with an estimated 21.8% of drivers driving uninsured, based on the latest study from the Insurance Information Institute. This means drivers in an accident stand a one in five chance of being hit by an uninsured driver.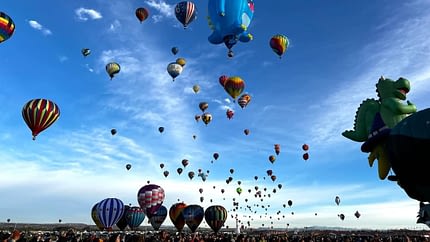 The Albuquerque Balloon Fiesta
Cost of a Balloon – A typical plain balloon can run approximately $25,000. However, a special shape balloon can run up to $200,000 or more.
This year (2022) Albuquerque Balloon Fiesta celebrated its 50th anniversary with its first Light Show.
Santa Fe's culture is connected to New Mexico's 23 Native American Tribes, Nations, and Pueblos.
Deer's shed their antlers, which can weigh 40 pounds a piece, between late November and late December
In May of 2000, the devastating Cerro Grande fire roared through Los Alamos destroying more than 400 homes. The Jemez Agency insured more than 200 of those homes. Through hard work and long hours, The Jemez Agency helped those families put their lives and homes back together.
The United States Postal Service launched the ZIP Code System during July of 1963. The name ZIP stood for "Zoning Improvement Plan" and was a system developed to make mail delivery more efficient within the United States.
The Cassette Tape, or Compact Cassette was first developed by the Philips Company. Philips released the invention to Europe at the Berlin Radio Show on August 30, 1963, and the popularity peaked by the late 1980's. Surfin' U.S.A by The Beach Boys, Be My Baby by The Ronettes, and Another Saturday Night by Sam Cooke were some of the most popular songs of 1963.
The Los Angeles Dodgers, went 4-0 in the World Series against the New York Yankees in 1963. Pitcher Sandy Kaufax had 15 strikeouts in game 1.
As you know, Alcatraz Island is a small island 1.25 miles offshore from San Francisco, California, United States. The island was developed in 1934 with facilities for a lighthouse, a military fortification, and a military and federal prison. After two decades of intense scrutiny relating to operating costs and confinement practices, on March 21, 1963, the end of an era arrived with the official closure of Alcatraz.
In 1963, astronaut Gordon "Gordo" Cooper became the first American to spend more than a day in space. During his 34-hour solo flight, which was the longest of the six Mercury flights, Cooper circled the Earth 22 times.
Popular movies of 1963 included, The Great Escape with Steve McQueen, Alfred Hitchcock's The Birds, and the Pink Panther with the kooky Inspector Clouseau.
Frozen dinners and 7 Up made their debuts in grocery stores.
Brad Pitt, Whitney Houston, Michael Jordan, Johnny Depp were born in 1963.